ASTM F436 Type 1 Washers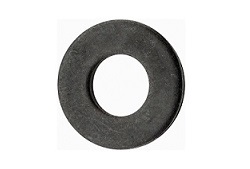 Boltport is a manufacturer, stockist and supplier of ASTM F436 type 1 hardened flat washers. ASTM F436 Type 1 Washers are extensively used with ASTM A193 Grade B16 Bolts along with A194 Grade 16 Nuts. ASTM F436 washers are hardened and are manufactured as plain flat washers or sometimes with large bearing surface and heavy gauge thickness. Hardened Flat Washers in ASTM F436 Type 1 are available from 1/4" to 4".
Find chemical composition, surface hardness requirement and available coating options for ASTM F436 Type 1 Washers.
For quick quotation on ASTM F436 Washers, please send us enquiry on info@boltport.com
Chemical Composition for ASTM F436 Type 1 Washers
| | |
| --- | --- |
| Elements | Requirement |
| Phosphorus, max | 0.035 % |
| Sulfur, max | 0.040 % |
Hardness for ASTM F436 Type 1 Washers
| | |
| --- | --- |
| Type | Requirement |
| Plain | Rockwell Hardness 38 to 45 HRC |
| Hot Dip Galvanized | Rockwell Hardness 26 to 45 HRC |